What is the Process of Getting MBBS Admission in India?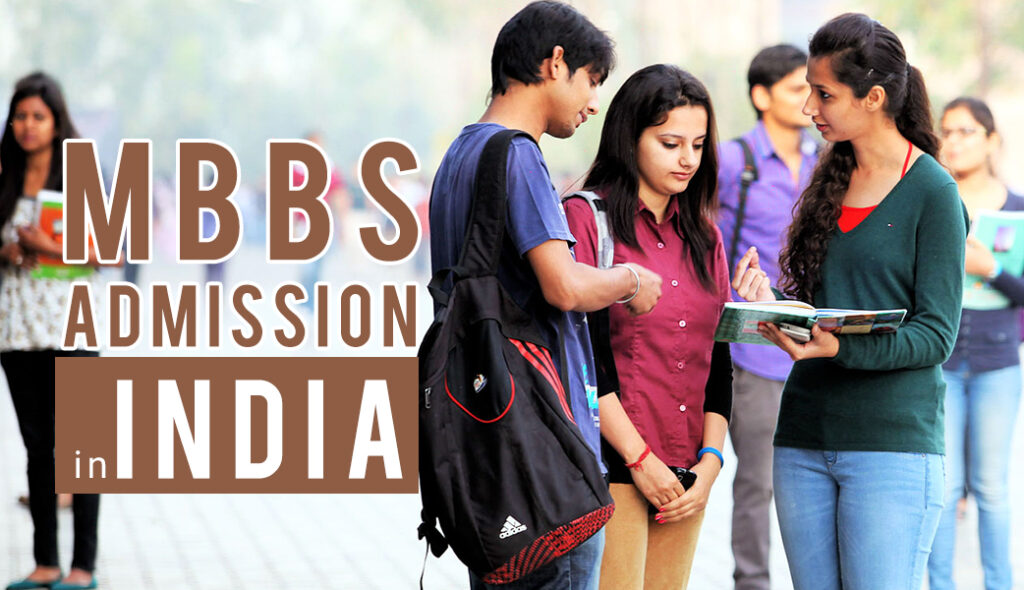 If we talk about the most sought-after course, it is an MBBS course in India along with engineering. Every year more than 15 lakhs students compete on a national level to get admission for MBBS in India. This is because, from a very young age, children are introduced to the idea that being a doctor should be the ultimate goal, especially if someone has an average to good hold over science. Thus, MBBS admission in India is quite popular and students start preparing to get admissions in the best MBBS colleges in India.
But this dream job is not so easy to get and comes with hardships even before one can secure the job. So, a student needs to have a planned strategy and hard will to do the hard work to secure medical admission in India.
If you are a student who is looking for a pathway to pass this challenge, we would ask you to continue reading this article to the end. Here, well we'll be going over several aspects of this field, such as how to do MBBS in India, eligibility of MBBS in India, what qualification for mbbs admission is required and etc.
How to do MBBS in India
?
Before we move into the technical details, we need to have a clear idea of what MBBS is. Bachelor of Medicine and Bachelor of Surgery, shortly known as MBBS, is an undergraduate-level professional degree awarded by medical colleges in countries that follow the tradition of the UK. This degree recognizes the holder as an authorized medicine practitioner.
To get admission for MBBS in India, you will need to fulfil certain criteria or . The first and foremost thing you need to do is pass your 10+2 with a science background which is the first step to get eligibility for MBBS in India. Along with that, you will need to crack the National Eligibility cum Entrance Test to be placed in one of the medical colleges for the course.
As of now, India has a total of 562 medical colleges, out of which 286 are government colleges while the others are private institutions. Depending on the clearing rank in NEET, the candidate gets to choose from the options of the provided institutions to study medicine.
The curriculum of the MBBS course in India is a combination of both practical and theoretical knowledge. It also provides the students with a scope to get training in clinical procedures. 
The government of India and the National Medical Commission (NMC) provides accreditation and affiliation to the MBBS course in India.
One great thing about the Indian MBBS degree is that it is a globally recognized degree, and anyone with this degree can work as a medical practitioner in countries like the UK, USA, Australia, UAE, Germany, and many more. However, in some countries, the professional has to pass a medical licensing test to start practising legally.
---
Related Links
1. MBBS Admission in USA
2. MBBS Admission in UK
3. MBBS Admission in London
4. MBBS Admission in Canada
---
Required academic qualifications for MBBS in India:
Here are the academic qualifications you need to have to get enrolled in a medical college in India:
The candidate needs to have a minimum age of 18 years and a maximum of 25 years. Candidates having more than 25 years of age cannot appear for the MBBS course in India.
For being eligible to apply for the MBBS degree, you need to have completed your 10+2 in the science stream, having Physics, Chemistry and Biology as the primary subjects. You'll need to have a minimum of 50% marks in the subjects (reserved candidates will have to score 40% marks).
The next step is to sit for the NEET, a national level

MBBS entrance in India

conducted by the National Testing Agency every year. Depending on your rank in the entrance, you will be able to choose a college of your liking from the available list. Other than NEET, there are some more entrance exams for candidates to appear to get into specific colleges. Some of them are as follows.
AIIMS Entrance Test: The All India Institutes of Medical Sciences, New Delhi, conducts this test for candidates who want to apply for AIIMS for the medical course in India

.

JIPMER Entrance Test: Conducted by the Jawaharlal Institute Postgraduate Medical Education & Research, this exam is for the ones who want to study in either of the Puducherry campus or Karaikal campus of JIPMER.
One thing to remember is that you can only attempt once for these entrance examinations in a one yearly admission cycle. However, there is no rule barring you from appearing for more than one entrance exams out of the available ones in that academic year, meaning you can appear for NEET, AIIMS Exam, JIPMER Exam, etc. simultaneously if you desire to increase your chances of cracking the MBBS entrance in India.
What is the duration of the MBBS course in India?
The MBBS course in India has a duration of 4.5 years, comprising nine semesters. After the completion of all nine semesters, you will have to do a paid internship of 1 year, making the duration of MBBS 5.5 years in total.
After completion of the graduate-level MBBS degree, one can also opt for either MD or MS post-graduation degrees in any one of the recognized courses such as MD in Geriatrics, MD in Ophthalmology, MD in Dermatology, MS Paediatric Surgery, MS Plastic surgery, MS Gynecology, MS Orthopedics and many more. 
In case anyone does not want to go for a postgraduate degree, they can also opt for a PG Diploma.
The Postgraduate course has a duration of 3 years while the postgraduate diploma has a duration of 2 years.
What is the cost of MBBS in India?
There is no fixed fee structure for MBBS in India. Both the government colleges and the private colleges have different fee structures. While the private colleges may have a higher fee structure, the government colleges usually have an economical fee structure suitable for the students. However, one can expect it to be anywhere from 15,000 to 6000.
On the other hand, if you want to get into a private college through the management quota for a medical course in India, it may cost lakhs depending on how popular the college is.
Documents required for admission for MBBS in India:
HLSC or class 10 mark sheet along with passing certificate.

HS or class 12 mark sheet along with passing certificate.

NEET admit card and mark sheet.

Passport size photographs.

Character certificate.
Conclusion:
MBBS doctors have a high reputation both in India and abroad. Along with that, it will ensure job security and good pay. So if you are willing to go the extra mile without losing focus, getting admission for MBBS in India will be an achievable dream.
 FAQs:
Is MBBS valid outside India?
Yes, MBBS is a globally recognized professional degree and is recognized in more than ten countries other than India.
  Do I need to do an internship after completing the degree?
 The one-year paid internship is compulsory for all the graduated candidates to be recognized as authorized practitioners of medicine.