What is the Process of Getting MBBS
Admission in London

?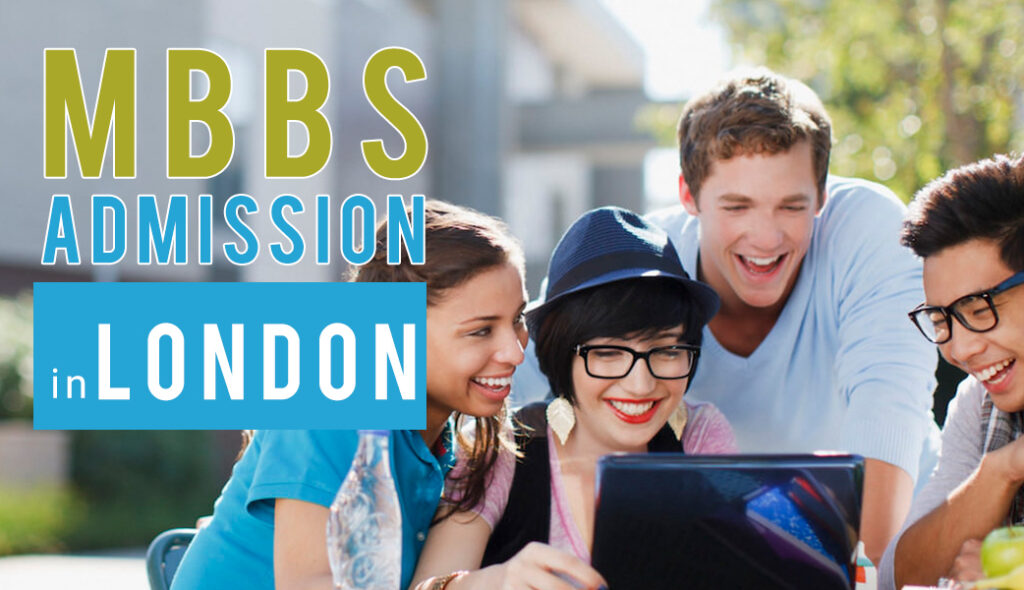 If you're interested in being a part of an internationally sought-after medical team, you can't think of anything other than applying for admission for MBBS in London. London is famous for both its cutting-edge medical infrastructure as well as best quality training. It is needless to say, medical admission in London is much sought after. Though there are only five medical schools in London, they are considered to be globally rated. Not only that, but two of them are also part of the Top 10 internationally in the field of medicine.
Applying for the MBBS course in London gives you a chance to train under some of the world's most renowned professors, known for their medical prowess and cutting-edge research. Not only that, you'll get to hone your skills in the best hospitals in London. If these aren't enough, London is considered to be the best city for the students, and you'll be able to study there for the MBBS course in London.
London medical schools are known to provide the best training to their students, including clinical learning, student-centric training and the provision for elective places in overseas countries as they have the best MBBS colleges in London offering best medical studies.
The lecturers, professors and tutors associated with the London medical schools are popular all around the world for their clinical experience and research. Some of the significant medical discoveries and achievements like penicillin, MRI Diagnostic, contributing to the understanding of DNA, Parkinson's disease put London on the map of the medical world.
However, there are certain criteria you need to fulfil in order to successfully get admission for medical in London. These include the University Clinical Aptitude Test or UCAT, IELTS/ TOEFL, etc.
Required criteria to get Medical admission in London
In London, U.K, the MBBS is also known as the MB or Bachelor of Medicine, following the tradition of the UK. Anyone who has a minimum age of 18 years can appear for the MBBS entrance in London.
The first step for doing so is to appear for the UCAT. Launched in 2006, UCAT is an entrance exam to test the prior academic knowledge of the candidates for admission into degree courses, dentistry courses or other health-related topics.
Two other tests act as alternatives to UCAT: a) BMAT and b) GAMSAT. You'll have to appear for one of them and pass it with the minimum required score. Which exam you need to appear for depends solely on which medical school you look forward to joining. While some college grant admission for MBBS in London based on the results of the UCAT, there are some others which may require you to sit for the BMAT or GAMSAT
The BMAT or Bio-Medical Aptitude Test launched in 2001 is another MBBS entrance in London to analyse the candidates for admission into Biomedical science, Medicine and Dentistry courses.
The third one is the GAMSAT or Graduate Australian Medical School Assessment Test. Despite starting as an entrance exam in Australia, with time, some of the Medical Schools in London have also adopted it as an assessment test for the applicants.
Other than these entrance exams, Indian students have to clear both NEET and IELTS/TOEFL.
---
Related Links
1. MBBS Admission in USA
2. MBBS Admission in UK
3. MBBS Admission in India
4. MBBS Admission in Canada
---
Eligibility for MBBS in London
Minimum required education qualification for MBBS admission for Indian students in London.
1. The first criteria for eligibility for MBBS admission in London are that you must have completed 10+2 with physics, chemistry and biology as primary subjects. Also, you need to have a minimum of 80% in the three subjects, especially Chemistry and Biology, to be eligible for appearing in the MBBS entrance in London.
2. Being an Indian student, you'll need to crack the National Eligibility cum Entrance Test conducted by the NTA every year in order to be eligible to appear for the MCAT.
3. The last step is to check which entrance exam is accepted by your medical school for admission for MBBS in London and successfully clear it with the minimum required scores.
4. Depending on your selected medical school's admission policy, you might have to appear for a language proficiency test like the TOEFL/IELTS. However, if your schooling is from an English medium institution and you've scored high scores in English papers during your 10+2, this step might not be needed. It is to be mentioned that having an IELTS scorecard increases the weightage of your application form during admission for MBBS in London.
What is the duration of the MBBS course in London?
The duration of your MBBS course will be six years. During these six years, you'll be given the scope to get clinical training in the wards along with theoretical knowledge of the various subjects. London medical schools provide a contract to the students from the first year only to work in clinics or hospitals.
After completing graduation, you'll need to enter the program, which goes on for two years. After the completion of year 1, you'll be awarded full registration to practice as a medical professional legally.
You can also opt for a Postgraduate program that will take somewhere around 5 to 7 years to complete.
What are the colleges providing admission for MBBS in London?
Imperial College London.

Universal College London.

King's College, London.

The Queen Mary University of London.

St George's, University of London.
What is the fee structure for MBBS in London?
Different medical schools will have different costs of MBBS in London,   the fee structures depending on their admission policies and popularity among the students. Here are is the fee structure and other details of 2 of the five colleges.:
Imperial College of Medicine in London is the biggest medical college in the whole of Europe. This hospital, ranked as the 4th in the world charges 44.6 lakhs for six years.

University College London is the third largest college of

MBBS course in London

due to the number of students. It charges 7.68 lakhs for the B.Sc integrated MBBS program.
Documents required for admission for MBBS in London
10+2 mark sheet along with passing certificate.

NEET mark sheet.

MCAT/BMAT/GAMSAT scoresheet.

IELTS scorecard. 

Passport with visa

Passport size photographs

School leaving certificate.

Character certificate issued by the school.

Permission letter from the UK Embassy.

Birth certificate.
FAQs:
1. Is London a good place to study MBBS?
London is considered to be the best place to study medicine due to its cutting-edge medical training.
2. Is IELTS compulsory for studying medicine in London?
No, if you come from an English medium school with great marks in the English papers, then it is not compulsory.
3. Are London universities famous?
All five universities providing MBBS are globally ranked, out of which two are part of the Top 10 list.
Conclusion:
London has a reputation of being the global center for medical research, collaboration, and discovery. The universities work on a range of topics, medical, clinical, pharmaceutical, etc., with international partners frequently. All these factors make it a wise decision to opt for an MBBS course in London. This article is a comprehensive guide on how to do MBBS in London and what will be the fee structure for MBBS in London.