Every member of the armed forces or law enforcement will find that a tactical smart watch will greatly simplify their work. The location, training, connectivity, and stealth characteristics of tactical smart watches make them crucial for anyone who serves in the military or police. In addition, they last longer than android watches created for local consumers. After trying dozens of smart watches from different brands, military persons go for versatile and reliable smart touch watches because they can be charged through solar energy and are extremely reliable.
If you are the one who is associated with the armed forces, police, or other similar roles, then we are going to tell you about some best and most reliable watches that will be very useful for you. Always look at the watch that is full of features. Location tracking, long-lasting battery life, water resistance, band, and dial material, night vision, and health and fitness options are the features that should be existing in a smart watch because these features are most helpful for you. Below, we are going to list the top best smart watches for you which are full of features and specifications.
Top Best Smart Watches for Military Persons
 Garmin Tactix 7 Military Watch
The Garmin tactix 7 tactical multisport GPS watch has a touchscreen display and traditional button controls. This watch has an always-on 1.4″ display, a custom front bezel design, a titanium bezel that is black DLC covered, and a titanium rear cover that is black PVD coated.
Power Sapphire solar charging lenses are present in both the tactix 7 Pro and tactix 7 Pro Ballistics.
The Pro version of Ballistics is compatible with the AB Synapse Garmin program on your compatible smartphone and has extra Applied Ballistics for shooting solutions. A sapphire lens with a dimmable white or green LED spotlight, a night vision compatible display, preloaded tactical and aviation functions, dual-position GPS formatting, Jumpmaster mode, projected waypoints, and a kill switch is a few of the mission-ready tactical features.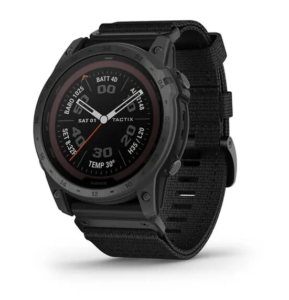 This smart and durable watch also features everyday things like smart notifications (when paired with a compatible smartphone), Garmin Pay contactless payments, a new HIIT activity profile, advanced training and performance tracking like endurance and stamina, and comprehensive health and wellness monitoring (with a supported country and payment network) even more.
 Garmin Instinct 2 Smart watch
If you belong to the military or the police department, your mission is always prepared. This budget series smart touch watch comes with tactical features like dual-position GPS format, waypoint projection, and compatibility with night vision spectacles. By blocking wireless connectivity and data exchange, stealth mode enables you to disappear. You can track in more difficult circumstances with the assistance of several global navigation satellite systems (GPS, GLONASS, and Galileo) than with GPS alone. You can check your general health throughout the day, which will help you be prepared for anything.
If we talk about some features, the battery is at the top. In GPS mode, this touch watch lasts up to 48 hours with continuous solar charging in direct sunlight. While in smart watch mode, infinite with solar charging in 3 hours of direct sunshine (50lu000 x) every day. Along with this, the Garmin instinct 2 touch watch has in-built app support, a 3-axis compass, stealth mode, and much more. This watch comes with the lowest price by Garmin as compared to other watches.
The Garmin Tactix Delta
The Garmin Tactix Delta includes a 1.4″ always-on display that can be activated via the black DLC coating of the bezel. This reliable smart touch watch for military persons is filled with all the tactical features you need to complete the job, much like previous tactical smart watches from Garmin, including Jumpmaster mode, dual-position format, waypoint projection, and preloaded tactical activities. The heart-rate monitor's lack of accuracy is a clear drawback. It's also a little hefty, which might not be to everyone's taste.
Even when wearing night vision spectacles, you can operate the Tactix Delta in stealth mode at night. With an altimeter for elevation data, a 3-axis compass for direction, and a barometer for weather monitoring, the Delta also makes navigation simple. Not to mention that it has a public land map, ski maps, and TOPO maps preloaded. With the configurable battery modes that help you get the most out of the battery, the already excellent battery life may be extended even further. The kill switch, which essentially allows you to delete everything off the wristwatch with the press of a button for security reasons, is another useful function.
 Garmin Epix (Gen 2) Smart Watch
Be epic by wearing Epix (Gen 2). With the gorgeous AMOLED display and up to 16 days of battery life in smart watch mode. This is the premium active smart watch, you can take on every day. Garmin Pay contactless payments in approved countries and payment networks allow you to stay connected with smart features, music storage, and even more functionality on the wrist. Understand your body with health and wellness monitoring tools that measure Pulse Ox, heart rate, breathing, and more 24 hours a day, 7 days a week.
If you are serving as a policeman or military person, then this watch is very useful for you. Others like fitness lovers or who want a reliable watch can also use this watch. The watch is available for sale in Pakistan. The price of Garmin smart touch watches is so high but the people who want a reliable watch for useful actions are still buying. This shows the brand-conscious mindset of Pakistani consumers.
Garmin Tactix Bravo
The Garmin Tactix Bravo is a good alternative for any outdoorsman seeking a reliable, dependable, and intelligent device. This watch has all the modern features, including integrated GPS and app download capabilities. It is also extremely resilient and equipped to handle challenging circumstances. People adore this watch because it can adjust the display for both day and night. When used as a smart watch, its rechargeable battery may operate for up to two weeks.
The watch can operate in the battery-saving mode for up to 50 hours before requiring a charge. Customers must pay Rs 130000/- for this watch in order to purchase it. Although the price is too high, the specs, features, and modes are also amazing. This watch will stay with you your whole life because of its durability and reliability. This watch is also used by sports lovers and travelers.
Final Verdict
Garmin is no doubt a tremendous smart watch creating a brand. If you are the one who is looking for a Gamin watch or a watch created for the military or place by any brand, you are exactly at the right place. If you are the one who is going to purchase this watch in Pakistan, you must have to pay in US dollars but you have several options to pay. If you buy a watch from leyjao, you will easily pay PKR through Easypaisa, JazzCash, credit or debit card.
If you are the one who is looking for a payment method or you want to pay cash on delivery, you can click on the cash-on-delivery option and pay when you get your product at your doorstep. Leyjao.pk is also offering installment options for customers on products above Rs 10000/-. If you are getting a product in installments, pay through Qistpay.