We want to convert OST to EML files so that we can open these files in Outlook easily, but we do not know how to do this or where to find the best tool to do it. If we are using Exchange Server, it occasionally happens that the Exchange Server shut down and removes the file for Outlook, leaving the OST file behind. Follow this page to learn more information in full.
The most prevalent file types are OST and EML. The OST file is used by Microsoft Outlook to save mailbox data, but the EML file is used by Windows Live Mail and other apps to save users' emails. However, the OST file is only compatible with Microsoft Outlook. EML files, on the other hand, are supported by Mozilla Thunderbird, Outlook Express, Windows Live Mail, MS Outlook, Apple Mail, and a variety of other email clients.

However, OST files are restricted, and the user cannot view the OST file outside of the system. As a result, many users convert their OST files to different formats. So that it can access information outside of the system. Let us now investigate the reasons for the switch.
The Benefits of Converting OST Files to EML
There are numerous primary reasons for converting OST files to EML files. This section contains a list of some of them.
Change to a Different Platform: EML is compatible with numerous systems, however, OST is exclusively compatible with Outlook. Thus, it is important to convert OST to EML format.
Data transmission: You may quickly transmit data using an EML file because the transferring process is straightforward and quick, however, OST files cannot be easily shared with others.
System Crash: A virus attack on the MS Exchange server is the most common cause of a system crash. In this case, it causes several problems in Outlook.
Methods to Manually Export OST Files for Free to EML
As far as we are aware, there is no direct method for manually converting OST to EML format. Nevertheless, we have talked about the manual technique process. Therefore, in order to complete this action, you must follow the steps listed below in the correct order.
Step 1: Integrate Gmail with Outlook.
Sign in to your Gmail account and go to the Settings tab.
Enable IMAP on the Forwarding and POP/IMAP tabs.
Then, to enable IMAP, click the Save Changes button.
Visit https://myaccount.google.com/ now.
Then, under Security, select Enable Less Secure App Access.
Then, open the MS Outlook application and go to the File tab.
Click the Add Account button and input your Name, Email, Password, and Password Retype. Next, click.
After the successful validations, click the Finish button.
2: Transfer Emails to a Gmail Account
To begin, right-click on the Gmail mailbox and select New Folder.
After that, enter the Folder Name and select the emails to import.
The emails should then be dragged and dropped into the new folder.
3: Integrate Gmail and Thunderbird
Launch Mozilla Thunderbird and navigate to the Tools menu to access the Options tab.
Now, go to Account Settings, select Account Action, and then select the Add Mail Account option.
Then, enter your name, email address, and password before clicking the Continue button.
Finally, pick IMAP and click the Done button.
4: Thunderbird EML Export
Click on the Gmail mailbox and choose the emails you want to export.
After that, drag and drop the Selected Emails into the computer.
The emails will then be converted to EML format automatically.
Users can convert OST files to EML format by following the methods outlined above. However, the manual procedure is time-consuming and inefficient. As a result, we have implemented the straight solution.
An Automated Method for Exporting OST Files to EML
DailySoft OST to PST Converter is a comprehensive solution for converting OST to EML, PST, MBOX, PDF, MSG, HTML, DOC, and a variety of other file formats. It is a full-featured tool that was created with the needs of high-tech users in mind. This application also offers a basic and easy-to-use interface that does not require any prior technical knowledge to utilize. It also does the bulk conversion of the OST files.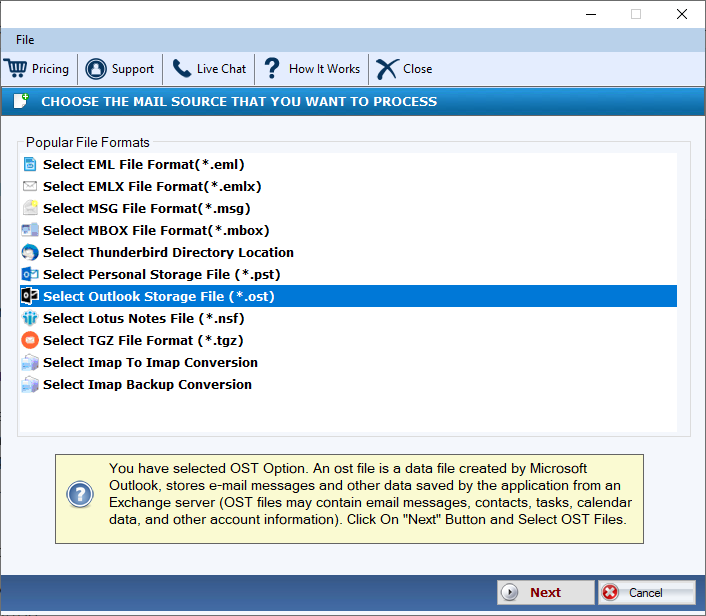 Conclusion
Because OST and EML file formats differ, the transfer process can be complicated and inconvenient. The most common inquiry is, "How do I convert OST to EML?" The procedures differ depending on whether OST is connected to an Exchange Server. Manual approaches are time-consuming and only suitable for converting single email files. All of this, however, is simply using a professional solution that converts OST files to EML formats in bulk.