Microsoft Outlook is one of the best desktop email clients available. Many small and large businesses use Outlook as their default email client for sending and receiving emails. It is renowned for its simple user interface, high standard of security, and advanced features. However, when working with Outlook, many issues arise. Outlook duplicate emails are yet another problem that users frequently run into. Any version of Outlook, including Outlook 2019, 2016, 2013, 2010, and so forth, frequently has this issue.
This post will go over the causes of duplicate emails, how to stop receiving duplicate emails in Outlook, and how to easily remove duplicate emails in Outlook. This post will be useful if you are an Outlook user looking for an easy way to fix this problem.
Why should you get rid of duplicate emails in Outlook?
Outlook is used by many businesses to increase productivity. However, having duplicate emails in a mailbox makes it bigger, which slows down Outlook. As a result, the user's productivity suffers from this issue.
Other issues that users have encountered as a result of duplicate emails
For the user, same mails are very confusing. For example, whether or not the user responded to the email.
Emails are difficult to find: When you search for an email in Outlook, it displays a list of emails. This list grows as a result of duplicate emails, making it difficult to find the correct email.
Increase mailbox size: If you are constantly receiving duplicate emails, this will cause your mailbox to grow in size. As a result, you may face additional difficulties.
Take up more space: As the number of duplicate emails grows, your mailbox will consume more hard drive space. As it occupies more space, your CPU will be used more frequently.
The causes of duplicate emails in Outlook
Multiple factors can lead to duplicate emails in MS Outlook. Some of them are as follows:
Rules are not properly configured: If the rules in Outlook are not properly configured, it will cause confusion when you receive emails. This results in email duplication.
Synchronization problem: A synchronization problem can occur if your internet connection is slow or unstable. You might consequently receive duplicate emails.
Send/Receive Intervals that Are Brief: Email duplication can happen if the interval between sending and receiving data is set too slow.
Incorrect mailbox settings: If you incorrectly set mailbox parameters when creating an account in Outlook, you may receive the same email message multiple times.
If you create multiple accounts for the same mail address, you might receive duplicate emails on different devices.
How can I avoid having Outlook send identical emails?
Finding the problem's primary cause is the first step. To stop receiving duplicate emails, follow these steps.
Step 1: Correctly configure Outlook rules.
Check Outlook rules to make sure they are configured correctly. If they are not, it will be difficult to distinguish between various email folders.
Step 2: Configure the frequency of inbox updates.
Start Microsoft Outlook.
Navigate to the Send/Receive tab.
Select Define Send/Receive Groups after selecting Send/Receive Groups.
Schedule an automatic send/to receive every value for 15 to 30 minutes using the Send/Receive Groups wizard.
Click the Close button.
How do I remove duplicate emails from Outlook?
You can use the Clean Up feature and the Import/Export option in Outlook to remove duplicate emails. You can eliminate same emails from conversations and folders with the aid of Clean Up. A third-party PST Duplicate Remover tool can also be used.
Method 1: Use Clean Up to remove duplicate emails from Outlook.
Start Microsoft Outlook.
Choose the folder containing the duplicate emails.
Select the Clean Up option from the Home tab, followed by the Clean Up Folder option.
A message will appear in the popup window, stating that all redundant messages in the current folder will be moved to the "Deleted Items" folder if you click the Clean Up Folder button.
Empty Folder can be selected by right-clicking the Deleted Items folder.
Method 2: Remove duplicate emails from Outlook's Import/Export feature.
In this method, we will first create a backup PST file and then import the PST file.
Step 1: Create a backup of your Outlook emails
Navigate to the File tab in Outlook.
Choose Open & Export and then Import/Export.
Press the Next button after selecting Export to a file in the Import and Export Wizard.
Choose Outlook Data File (.pst) from the Export to a File screen and press the Next button.
Select an Email account from the Export Outlook Data File window, check the Include subfolders checkbox, and then click the Next button.
By clicking the Browse button and choosing the Replace duplicates with items exported option, you can specify a destination path.
Add a Password (Optional) before clicking Finish.
Step 2: Open the PST file.
Browse to the File tab in Outlook.
Choose Open & Export and then Import/Export.
Choose Import from another program or file from the Import and Export Wizard and press the Next button.
Choose Outlook Data File (.pst) from the Import to a File screen and press the Next button.
Click the Browse button in the Import Outlook Data File window to select a PST file and select the Do not import duplicates option.
Choose the folders you want to import and check the Include subfolders box.
After selecting the box next to Import items into the same folder, press the Finish button.
Method 3: Utilize PST Duplicate Remover to delete same emails from Outlook.
We will use Softaken Outlook Duplicate Remover Tool in this case. It is a powerful tool for deleting Outlook duplicate emails quickly. You can quickly remove duplicate emails from Outlook PST using this software. To finish this task, adhere to the steps listed below.
Install the Outlook Duplicate Remover utility.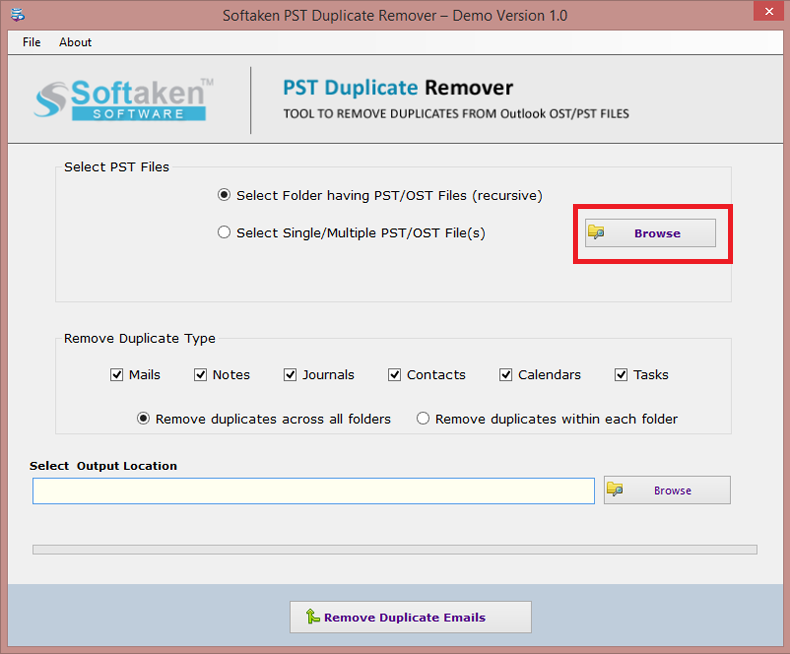 Open the software and choose Single/Multiple PST file(s).
To delete same emails in Outlook PST, click the Browse button and select the PST file.
Choose Remove Types based on your needs and remove duplicates from all folders.
Select a location to save the new PST file by clicking the Browse button.
To begin, click the Remove Duplicate Email button.
Conclusion
In Outlook, duplicate mails are a common issue. This issue may cause users to become confused and reduce their productivity. If you are experiencing duplicate email issues, you can use the methods listed above to remove same mails in Outlook. I hope you found this post useful.